With a gourmet chocolate making know-how of more than 35 years the CÉMOI group also supplies the catering sector.
THE GARANTEE OF A CHOCOLATE OF EXCELLENCE
The perfect aroma you are after and guarantee total traceability of our beans throughout the entire production process are the heart of CÉMOI program.
Everyday we select only the very best beans in order to offer a range of products of exceptional organoleptic quality.

CÉMOI, THE CHOCOLATE BRAND DEDICATED TO THE PROFESSIONALS
We are a reference for all the large-scale food manufacturers (biscuit makers, ice cream makers, chocolate makers). We are experiencing strong growth in the chocolate market for artisans, pastry chefs and chefs. Our customers appreciate our constant research in innovation and the customised support we provide. Our range of chocolate ingredients is as wide as the possibilities for creation and expectation in terms of taste.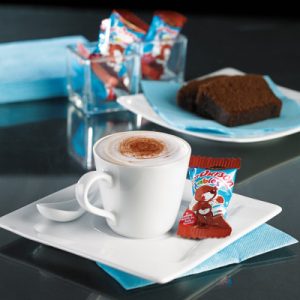 As a specialist in all forms of chocolate, the CÉMOI group offers a wide range of products for out-of-home consumption: breakfast, snacks, desserts, coffee-sides, treats…
With our multi-network knowledge we can meet the specific requirements of all sectors (commercial and corporate food services, Cafés Hotels Restaurants, alternatives sales outlets…) with adapted packagings.
CÉMOI offers tailor-made solutions : gourmet, snacking, sweets, hot drinks and festive products. A complete know-how for professionals : couverture, decorations, powder, chocolate bars, chocolate sticks, marshmallow, moulded chocolates, individual chocolate bonbons; coated and moulded, chocolate assortments …