Innovation is a part of our history from the very start.
At every stage of the cocoa network innovation and expertise go hand in hand, and even if we have a dedicated R&D team of more than 30 people, we consider that it is in the exchange between all team members that ideas are born and developed.
Cocoa is not like other ingredients. Its taste and texture depend on its origins (the species of cocoa tree and the conditions in which it is grown and cultivated) as well as the production processes that are used to create it.
APPLIED AND COLLABORATIVE RESEARCH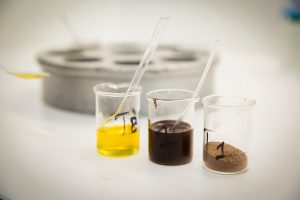 Fermentation is the essential part of the process for the expression of the cocoa beans' flavours. As a part of our continual improvement process we carry out research projects to select yeasts naturally present in the beans to obtain constant quality.
We have created research partnerships with universities and several research centres in France and the Ivory Coast.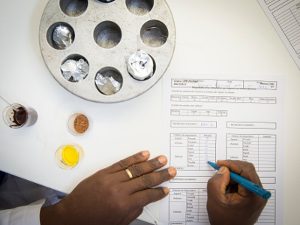 It is by better understanding the aromatic components and the evolution of the flavours in the production process of our cocoa that we can create new blends.
THE ASSOCIATION OF TEXTURES AND CHOCOLATE'S APPEARANCE
The texture, shine and crack of chocolate and the fluidity of our chocolates used in culinary preparation are essential to the chocolate experience. It is in our mastery of technical know-how that we are able to create gustatory experiences that go beyond simple taste and reinvent the pleasure of eating good chocolate.
The world is constantly changing and we have to review what we know about chocolate consumers' expectations and the ways in which they consume chocolate. We are constantly on the look out for any small signs that may be the big trends of tomorrow.
Supporting changes in the means of production and consumption is another of our roles. We launched an extensive digitalisation program which has led to a reduction in paper consumption, facilitates data exchange, improves production site efficiency, simplifies payments for planters living in the bush and improves team communication. By integrating these new technologies we become more flexible and creative.