We are committed at all levels of the sector, from growers to consumers, to make you love chocolate in all their diversity.
As a major chocolate player, our activity is intresically linked to natural resources, as well as to the men and women who contribute to creating Cémoi chocolate. We are aware of our environmental and social responsability at each of the manufacturing stages: from the production of raw materials to the impact of the finished product. This is why it is our duty that the cocoa we use is grown in the best conditions, guaranteeing respect for human rights, better remuneration for growers and fighting against deforestation.
To do this, we have launched an innovative program called Transparence Cacao supported by NGOs and national and local authorities which draws on the Group's sustainbale development expertise, developed over thirty years.
The objective: getting to know the sectors to the communities of growers, to support them to improve the quality of their hasvest and thus obtain a better income from their work, taking care of their environment.
A LONG-STANDING COMMITMENT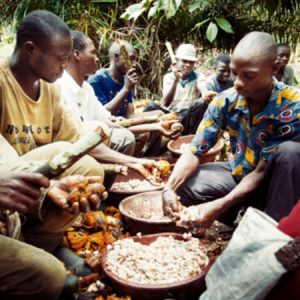 Over several decades, we have have been committed to a sustainbale development approach. Alongside the growers, we directly source our cocoa of origin to cooperatives and partners. Since the 1980s, we have been involved in the organic cocoa sector. Then from the 2000's we have invested in dedicated fermentation and drying centers in Ecuador, Sao Tomé and the Dominican Republic. In Ivory Coast, Cémoi is at the initiative of the International Processor Alliance for Cocoa Traceability and Sustainability. In 8 years of existence, it has enabled the creation of 17 fermentation and drying centers in Ivory Coast. The 60,000 planters involved in this program are gradually being trained in agronomic techniques. They work to improve the quality of cocoa, which increases their yields and improve their income.
QUALITY, THE FOUNDATION OF THE PROGRAM
This program was built in collaboration with agricultural NGOs support and state development agencies. Cémoi Group has thus demonstrated that to build sustainable sectors, the notion of quality must be considered in a global way: socio-environmental quality, food and aromatic quality.A good chocolate is revealed thanks to a quality cocoa. At Cémoi, this quality requirement is expressed through the monitoring of four founding criteria of the Transparence Cacao program:

A chocolate whose we know history: the origin of the manufacturing process of the factory, the area, the cooperative, the planter.

A chocolate that expresses subtle and delicate aromas. This criterion takes into account our aromatic expertise and the work carried out in our centers.

A chocolate that allows the planters to live with dignity form his work, to support his family, to invest in his working tool. This axis takes into account the professionalization of producers and their cooperative, the schooling of children, access to water, electricity and healthcare.

A chocolate that contributes to environmental protection efforts. This axis makes it possible to reduce the risks linked to deforestation and promote agroforestry.
OUR COMMITMENTS ALONGSIDE GROWERS
Cocoa is an excellent driver of local development and protection of biodiversity. There is a direct link between the socio-environmental quality of cocoa production and the final quality of chocolate products. Strong communities of producers, sufficiently remunerated to have the means to invest, are able to master the first phases of cocoa processing, which are crucial for quality. The trained producers develop cultivation under shade and sustainable agriculture which allows them to obtain good yields on their plots by making nature an ally. In addition, we employ more than 1,000 people in Ivory Coast. In addition, Transparence Cacao creates many indirect jobs. It is therefore to initiate a virtuous circle by taking up the major challenges of cocoa that we act alongside partner producers. Today, the whole industry is proving us right. Indeed, in March 2017 under the high patronage of the Prince of Whales, Cémoi was among the twelve main companies in the global cocoa industry to have commited to cooperate to end deforestation and promote improved practices. The challenge is nothing less than sustaining the production of raw material that must continue to delight everyone.
To find out more, discover the dedicated website here : Transparence Cacao
DOWNLOAD TRANSPARENCE CACAO & CFI REPORT